On Monday 10/20: City to Present Plan to Extend 4th and 5th Buffered Bike Lanes; Leo Wilson Continues his Campaign Against Bicycling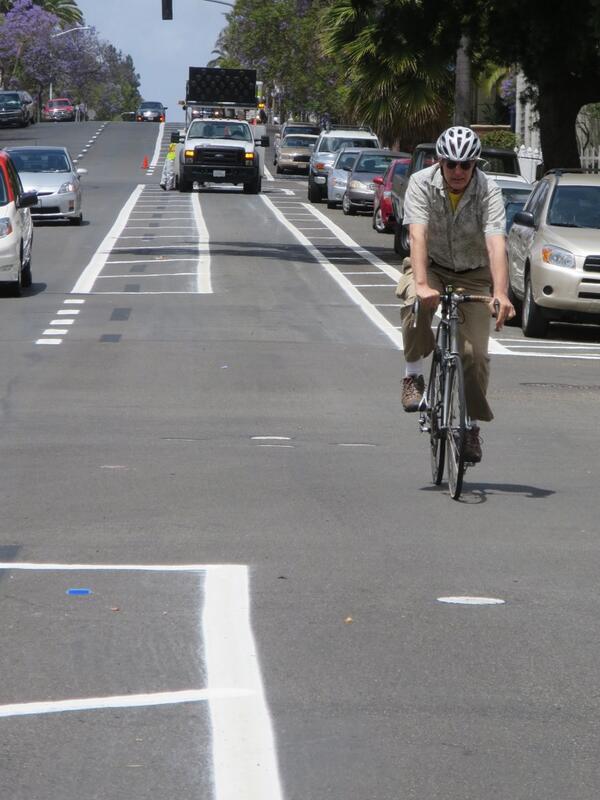 Photo by Adrian Granda of the buffered bike lane that currently ends at Laurel St.
Next Monday at 6:30 PM, the city will be presenting a plan to extend the new 4th and 5th bike lanes from Laurel Street. If you live or travel through Bankers Hill you should be there. Brian Genovese (City Engineer) is­ presenting 4th and 5th Avenue bike lane extension through Bankers Hill at­:
3030 Front Street (Bankers Hill Social Club) on Monday at 6:30 PM (October 20th).
If you'd like to ride to the Bankers Hill Social Club, a group is leaving Balboa Park at 5:30 PM.
Opponents (such as Uptown Chair Leo Wilson – whom we've asked to step down as Chair) are claiming that the city needs to do a environmental analysis in order to add a bike lane. In an email sent earlier this week, Wilson writes:
Attached is a copy of the San Diego Bicycle Plan.  Page 138 has the bicycle plan's recommendations for 4

th

and 5

th

Avenues in Bankers Hill.

The recommendations are for Class II and Class III bicycles lanes — not a Class I type of bike route that would require the removal of traffic lanes.  Instead the bicycle plan (p. 138) indicates it "would be necessary to narrow the existing traffic lanes to 11 feet and narrow the existing parking lane to 7 feet to provide necessary space for Class II bike facilities along 4

th

and 5

th

Avenues."  It does not recommend lane reductions

The City's claim they can remove traffic lanes based on the recommendations of the City's approved bicycle master plan are erroneous.  There needs to be

CEQA

review, and an amendment to the bicycle plan involving a community review process.
That's right. San Diego has its own Rob Anderson and his name is Leo Wilson.
Making room for a bike lane by reducing and existing travel lane doesn't result in a Class I bike path (examples being the Harbor Drive multi-use path or the Bayshore Bikeway). If anything, narrowing existing travel lanes will result in the city creating a Class II bike lane (marked by paint stripes on asphalt with painted buffer hatch marks). With some sustained effort, our advocacy will result in eventually converting that Class II bike lane into a cycletrack or a Class IV facility, recently approved by the Governor, thanks to the California Bicycle Coalition.
Furthermore, last year the Governor signed a bill into law exempting bike lanes from CEQA (The California Environmental Quality Act). In other words, Wilson is wrong.
As an update to the petition calling for Leo Wilson to step down as chair to the Uptown Planners I asked Marlon Pangilinan, a city planner who oversees Uptown, a few questions and he provided me with some clarification on the rules about Community Planning Group members. The responses are below:
1. Are there rules on how long a member of a planning group can serve both on the board and as chair?
Yes. According to Council Policy 600-24 which provides the standard operating procedures and responsibilities for the City's recognized Community Planning Groups (CPG), no person may serve on a planning group for more than eight consecutive years if members are elected to two- or four-year terms, or nine consecutive years if members are elected to three-year terms.

The eight or nine year limit refers to total service time, not to individual seats held. After a one-year break in service as a planning group member, an individual who had served for eight or nine consecutive years shall again be eligible for election to the committee. There are exceptions to serving more than the 8 to 9 year limit in the case there are not enough members to fill vacant seats.

In the case of the Uptown Planners, their approved bylaws dictate fixed terms of 4 years, therefore the maximum time an individual can serve on the Uptown Planners is 8 years.

The Chair is an officer position on the Uptown Planners. The length of the officer's term is one year. However, officers are elected annually from the and by the members of the Uptown Planners, so the same individual can be voted to fill the same officer position every year except that no person may serve in the same Uptown Planners office position for than 8 consecutive years.

2. What are the consequences for violation if there are rules?
If a violation is proven, the CPG must take corrective action. A planning group member or planning group found to be out of compliance with the provisions of Council Policy 600-24, or the planning group's adopted bylaws, risks loss of indemnification (legal protection and representation) and forfeiture of its status as recognized advisory body.

3. Has there been an effort to unseat a Planning Group chair in the past? What has the result been?
No. Based on my recent discussions with other Community Planners in the Planning Department, there have been complaints regarding the way CPG Chairs run the meetings and regarding Chairs with perceived conflicts of interest, but with no apparent or proven violations.
Hope to see you on Monday at 6:30 PM. We could sure use your presence.
Update: John Anderson has a great writeup of the meeting.